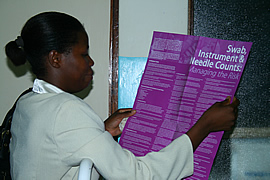 Welcome To Friends Of African Nursing
Welcome to the FOAN website, please take some time to learn about what we do, the difference our work makes to developing countries and what we have been up to recently. Please help support our work with a donation, buying from our online shop, or becoming a member.
Latest News
Here's some of our latest news;
Birthday Celebrations In Africa..
We are looking forward to seeing colleagues invited to attend our fifteenth birthday celebrations which will be held at the Nairobi Surgical Skills Centre on Nairobi Un..
Recently Available File
Here's our most recent file;
Latest FoAN Report
View our latest activity report;
2015 Annual Report..
Annual Report 2015..